This entry isn't so much about the eCraft as it is about the importance of Print and Cut in general. This is about my friends... OK say it. I THINK like my grandchildren! More on this later...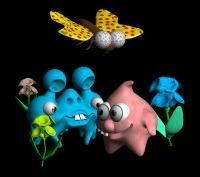 The first time I ever felt the need for a die cutter was in the early 1970's. I was a video producer and needed half-circle labels that would fit the reels that were used for video in those early days.
Custom shaped labels back in those days involved finding a printing company that also had the capability of using a die to punch out the labels after they were printed. The dies used then were created by using a router to cut a slot into the wood for the shape desired and then inserting a band into the slop to create the cutting blade. The labels were first printed and then cut to shape in a two step process. Kiss cutting was the goal; but, the presses used were crude and the cut varied in depth from label to label.
There were very few companies that had that capability. There were none in the Washington, DC area. So, I ended up having to use a company from Baltimore. I don't remember how much the die cost. But, I do remember it seemed to me to outagiously expensive and certainly way more than printing the labels, themselves. Once the die was paid for, the cost of printing custom labels for clients was negligible. By the way, only the logo and client's company name was pre-printed. We used a typewriter for the title.
We've come a long way from that situation. But, the underserved demand for being able to preprint an image and then cut it out remains. We can die cut just about anything we want to with most cutting machines. And, these machines cost little more than the cost of buying a single die back then. But, using that same machine to precisely cut preprinted materials remains an elusive goal with few exceptions.
Having a pen and a cutting head in a single unit, at the same time IS useful as you can see from this bunny.
I am sure that my granddaughters are going to have a lot of fun combining line drawing with the shapes that that they cut out. eCraft's Paper Doll SD set looks particularly intriguing for this application. But, I want to go well beyond this. This is the kind of preprinted object I am personally interesting in turning into stickers.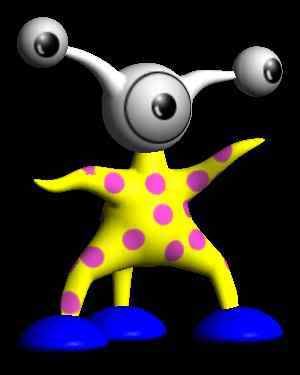 And, they can't be created with a line drawing using a single pen. They require either being preprinted and subsequently cut or printed with an inkjet head with the same machine that cuts it out. The Cricut Imagine would be a possibility; but, in their wisdom Provo appears to have decided to limit print & cut with their new machine to their new proprietary cartridges. Nice of them.
It's difficult for me to understand the true complexity of print and cut that must exist because one would think that every cutting machine would have addressed it long ago if it were as simple as it seems on the surface. But, I have a particular fondness for the notion that ignorance really IS bliss. So, I will blissfully continue to push every manufacturer of cutting machines to make the ability to cut preprinted images a foregone conclusion. We should not even have to ask, "Will it print and cut?" or "Can it use registration marks to cut preprinted images?"
That might take a while. But, what we can demand now is precision. For, precision is THE one requirement that makes print and cut possible. And, I believe that the eCraft, from the few tests I've tried, seems to offer us the precision from which we can find the ultimate print & cut solutions.
This is where you and I come in. If there is ANYTHING that abundance in the crafting community it is creative and improvisational thinking. I've advanced one potential idea toward being able to print my little creatures using an inkjet printer and turning them into decorations and stickers with the eCraft. As you get your machines I am hoping that you, too, will come up with your own novel solutions that can be tested and shared. This is why community is so important.