As I look back over the last 14 years, since I first started blogging about crafts, I am amazing at how far the landscape has shifted. The offerings of products have not only changed; but, the variety of new methods for reaching our design goals have vastly increased.
But, sometimes, the biggest changes are in ourselves as our interests expand or compress over time. I finally gave my paper cutters to a charitable organization after seeing them sit idly for a number of years as my attention was turned to 3D design and printing.
But, even in that endeavor, today is a lot different than it was just 3 years ago when I obtained my first 3D printer. I started with a kit and was overjoyed when 3D Systems introduced the first true consumer 3D printer, the 1st Generation Cube. Now, 3 generations of the Cube have come and gone and 3D Systems has announced they are leaving the consumer marketplace.
There is a reason for that. So many new companies have introduced 3D printers with ever lower price points that in just a few short years the profit margins on 3D printers are under a great deal of stress.
The good news is that this plethora of options among 3D printers means they are more affordable than ever.
The other good news is that companies like Autodesk are committed to making 3D design easier and easier. Believe me, if you can create SVG files for cutting, you can easily learn ro create your own 3D designs. In fact, I actually find it EASIER to design in 3D than in 2D.
The reason for my writing this particular post is to alert you to a new 3D printer offering that just might be the tipping point for home 3D printing.
It actually comes from the TOY industry!
I have no idea how well it works; but, at $300 (List) it certainly begins to be an appealing product for parents and families. It's from Mattel and is called
The ThingMaker.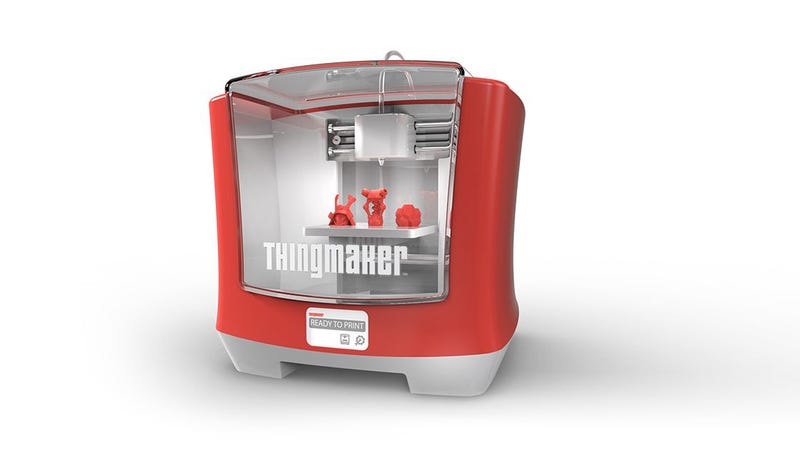 I don't do cut and paste articles so until I can get some real experience with the Thingmaker, I will not offer and opinion of its viability. But, I did want you to know about it so you can be aware that the sands are shifting in YOUR direction! :)