I'm not just being a proud father when I tell you that my daughter is a very accomplished sculptor. Her exquisite carved porcelain and clay work can be found in several permanent exhibits here and abroad. Here is an example: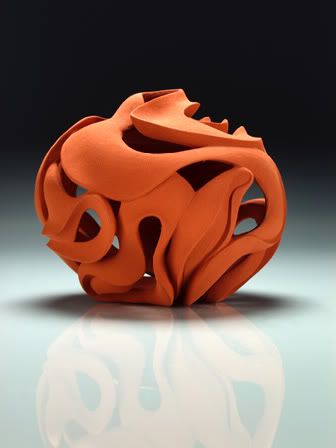 For a variety of reasons, she realized that she would have to move to using different materials and methods if she was going to fully realize her artistic goals. One of the directions she wanted to explore involved paper cutting.
The Cricut
The first machine we explored was the Cricut. But, that was quickly rejected because it did not have the means for creating one's own designs at the time. The idea of being at the mercy of a manufacturer to come up with the designs one might need was NOT an appealing feature. So, we rejected it immediately. It might be a very great machine. But, not for our intended purposes.
The Gazelle
At the time we began our search, a new cutter was nearing release. One of its features was the ability to creat your own designs. Since this is exactly what we were looking for, we pre-ordered a Gazelle. To my knowledge it has never been used.
Why?
My daughter's initial reaction to the Gazelle was that the learning curve was going to be very steep. To her, it appeared that it was going to be simply too much effort for an artist that was intent on designing rather than becoming a technical guru. And, at the time I was engaged in seriously exploring and blogging about low-cost personal 3D printers that were expected to be introduced around that same time. So, I couldn't put the effort into seriously learning the Gazelle software in order to help my daughter over the learning hump.
Again, the Gazelle might be a wonderful machine. But, my daughter's initial reaction to its software precluded her from realizing its potential. I plan to pick it up from my daughter to see if I can figure it out and to compare its software with that of the eCraft. And, this will not only give us a point of comparison. It will allow us to find out if the eCraft's newer technology renders the Gazelle an also-ran in our quest for the perfect tool for crafters and artists.
The eCraft
Ok. So, our ultimate goal is to own and use a 3D printer for sculpture and we already have a cutter that could be used for building layers, etc. So, why this new effort?
Desktop Factory, the most promising of the 3D printers ended up being sold to 3D Systems. In the long run this is wonderful news. In the short run, it meant that the introduction of a sub-$5K printer will be delayed indefinitely. We're forced to look elsewhere for at least the near future. And, for now, that means cutters.
But, why look at the eCraft if we already have a cutter?
The big reason is the greater variety of media that can be cut. And, from everything I've seen so far, if their software matches their hardware, it promises to have easier software than we've seen thus far from other vendors. Of course we don't know that. We're simply guessing. But, we do promise to find out and let you know what we find.
You see, I have been a software interface designer for a lot of years. I have designed for companies like Hasbro, Time-Life Software and Pinnacle Systems, the video product company. The founder of Pinnacle Systems (Now Avid) was the lead designer for the
Mindset Computer System.
And, virtually every Mindset computer that was sold, way back in the mid-1980s, went out the door with Video Titler, the first professional desktop video product for the PC that I designed with Steve Bress. JVC also marketed the system.
Here is an old animation I created on the Mindset computer in 1984.
I plan to put the software of the eCraft to the test and help other users as much as possible to get up to speed as quickly as possible. I know the struggle that artistic people can have with technology and I hope that I can be helpful to the artists in my own family and those in the crafting community as well. At least we'll be in this together since none of us have had any experience at all with the new eCraft or their software.
Let's hope it's going to fun with little frustration. I expect it will be.